75 Glenn Kelleher Rnd One winner Motolite class
Newcomer to Motolites Glenn threw down the gauntlet with 3 convincing wins.
#68 Shane Wilcox was a strong 2nd closely followed #83 Edward Marsden.
38 Junior Murphy Round One Superlite Pro Winner
Junior started his year off to a great start with 3 wins although pushed hard by
#169 Ian Gregory. #62 Jim Murphy 3rd courtsesy #65 Tim Smiths flat tyre.
172 Leanne Nelson wins Commuterlite PRO class
Leanne won the three races in style to score maximum points.
second place went to #11 Barry Young who battled with #30 Garth Olsson

#149 Brent Dawson Commuterlite AM Rnd One winner
Brent won the 3 races in the Commuterlite AM class scoring maximum points.
Championship. #73 Daniel Florence was 2nd. and #29 Craig Hitchcock 3rd.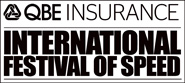 The QBE
INTERNATIONAL FESTIVAL OF SPEED
14-17 March at Sydney Motorsport Park
BUCKET RACING ASSOCIATION NSW and PCRA Historic Promotion Stand at IFOS
As in previous years of the IFOS the Bucket Racing Association and PCRA will have a Display stand again at this meeting.
Bikes from Historic and Bucket classes will be on display as well as information pamphlets and members on hand brimming with information and keen to pass it on.
Pay us a visit and find out all about Historic and Bucket Racing, you will be surprised at how easy and economical it can be to go Road Racing on full size race tracks.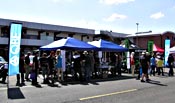 The busy BRA Stand at a previous IFOS.
Link to IFOS website
Start Bucket Racing
Join The Bucket Racing Association
The Application form can be downloaded Here...

Payment can be made by cheque, money order, Direct debit (Bank details on form)
OR
Payment to the Treasurer via PayPal.Me can be made Here...
Please fill in your details in the Notes Message box on the
PayPal Me Form
.
Quick Links:
If you live in NSW and have ever wanted to go bike racing this is the place to be. Home brewed bikes on race tracks offers outdoor fun while racing, and hours of indoor pleasure, home brewing your special machine!
A full list of the bikes that you can use are in our Rules Section. But if you want to buy one ready made see the Links page and in particular The Australian Road Racing forum. Otherwise contact a committee member and see if they know of any bikes for sale.

Anyway, browse around this site and check us out. If you are interested in racing either contact anyone on the Club Committee or come along to one of the meetings on the Race Calendar, check out the racing and introduce yourself.
Even if you don't want to race, we can get you on the smelly side of the fence in one of the best seats in the house as a flag marshal - A day at the races for free!

Links to:
- Rules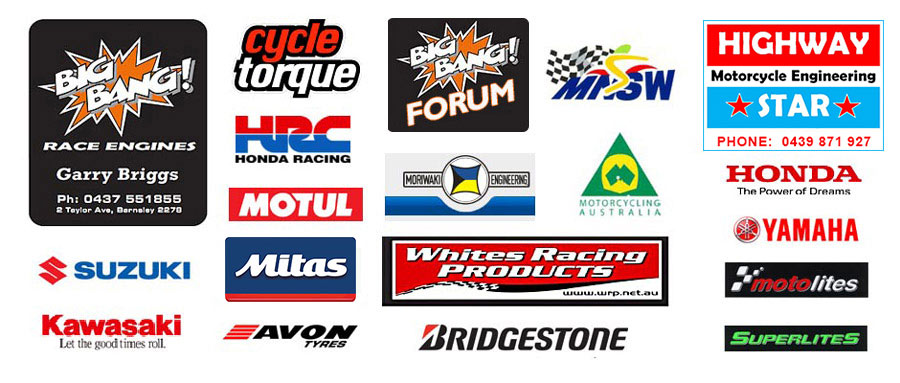 Copyright of The Bucket Racing Association NSW © 2018 All Rights Reserved